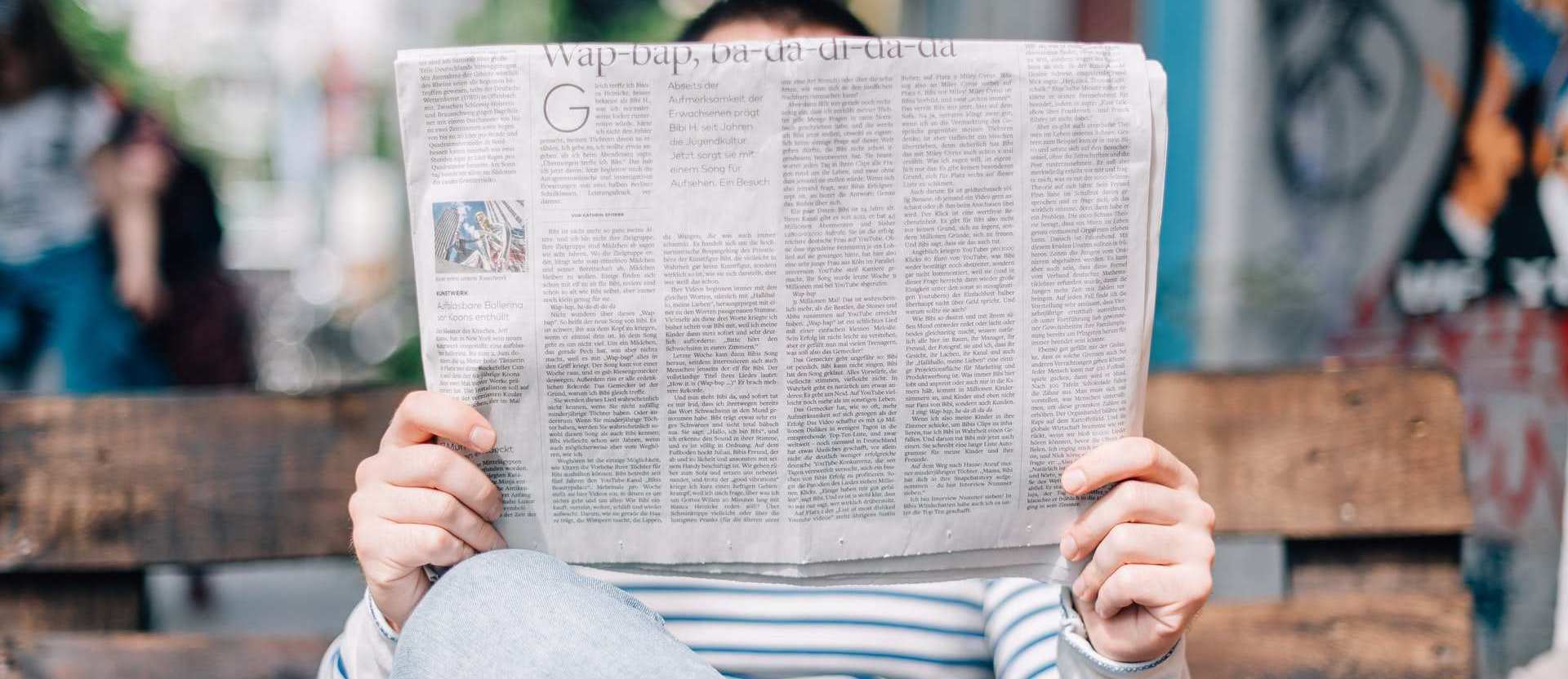 Press & Media
See what the media has to say about MyEventz, if you haven't already!
ET Rise - THE RISE OF VIRTUAL WEDDINGS
Indian startups eye virtual wedding space As weddings go online in as per the current situation, startups and even bigger firms are exploring virtual wedding space.
- Maulik Vyas, June 5th, 2020, 01:28 PM IST
After virtual board meetings and court hearings, comes the virtual wedding. More couples are tying the knot online, thanks to the new physical-distancing and safety norms. Helping them put such plans into action are startups offering the look and feel of a conventional wedding.
They organize the sangeet complete with DJ, mehendi ceremony and even customized virtual wedding photography. It's all solemnized on a conference call with the bride, groom and guests dialing in.
"Everything that has been done in a traditional wedding, we can do that in a virtual wedding as well," - said Geeta Raj Rawtani, founder of virtual event organizing startup My Eventz. "We are offering the entire backend support with a complete event flow to the bride and the groom."
Mumbai-based My Eventz started operations in May and has got bookings from various cities to organize weddings, wedding anniversaries and birthdays.
Read more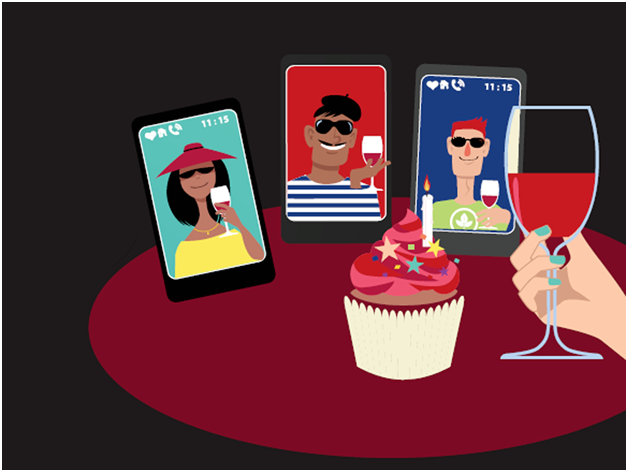 ETTECH - VIRTUAL PARTIES IN RAGE
In Today's times, virtual parties are a rage Requests are pouring in as clients look for some entertainment in their largely cooped-up lives, say planners
- Sreeradha Basu June 13, 2020, 07:54 IST
When the Mumbai-based Nangalias celebrated their 25th wedding anniversary in end-May, it was a three-day online affair complete with a bollywood night, housie, sangeet, live musicians, bhajans and a cocktail party, where 150-plus friends and relatives logged in daily from across the globe to join in the celebrations
Helping this trend catch on are startups and professional party planner like My Eventz, who are offering every possible trapping including anchors, puppeteers, clowns, dance choreographers, magicians and origami sessions to make virtual birthdays, anniversaries, baby showers, and even retirement parties memorable in these bleak times.
Geeta Raj Rawtani, the founder of virtual event organizing startup My Eventz got into the virtual party from the month of March 2020. Online parties constitute barely 10-15% of their normal take-ins, but it's still a way of keeping some revenues coming in.
There's a lot of excitement - even among senior citizens - as these parties provide a much-needed break from the monotony of being largely confined to the home. Rawtani has a bunch of bookings already, including from a client in the Netherlands who is sponsoring an event for her brother.
Another client wants a big bash on Rakshabandhan, and has booked practice sessions with a choreographer in the run-up to the do.
Read more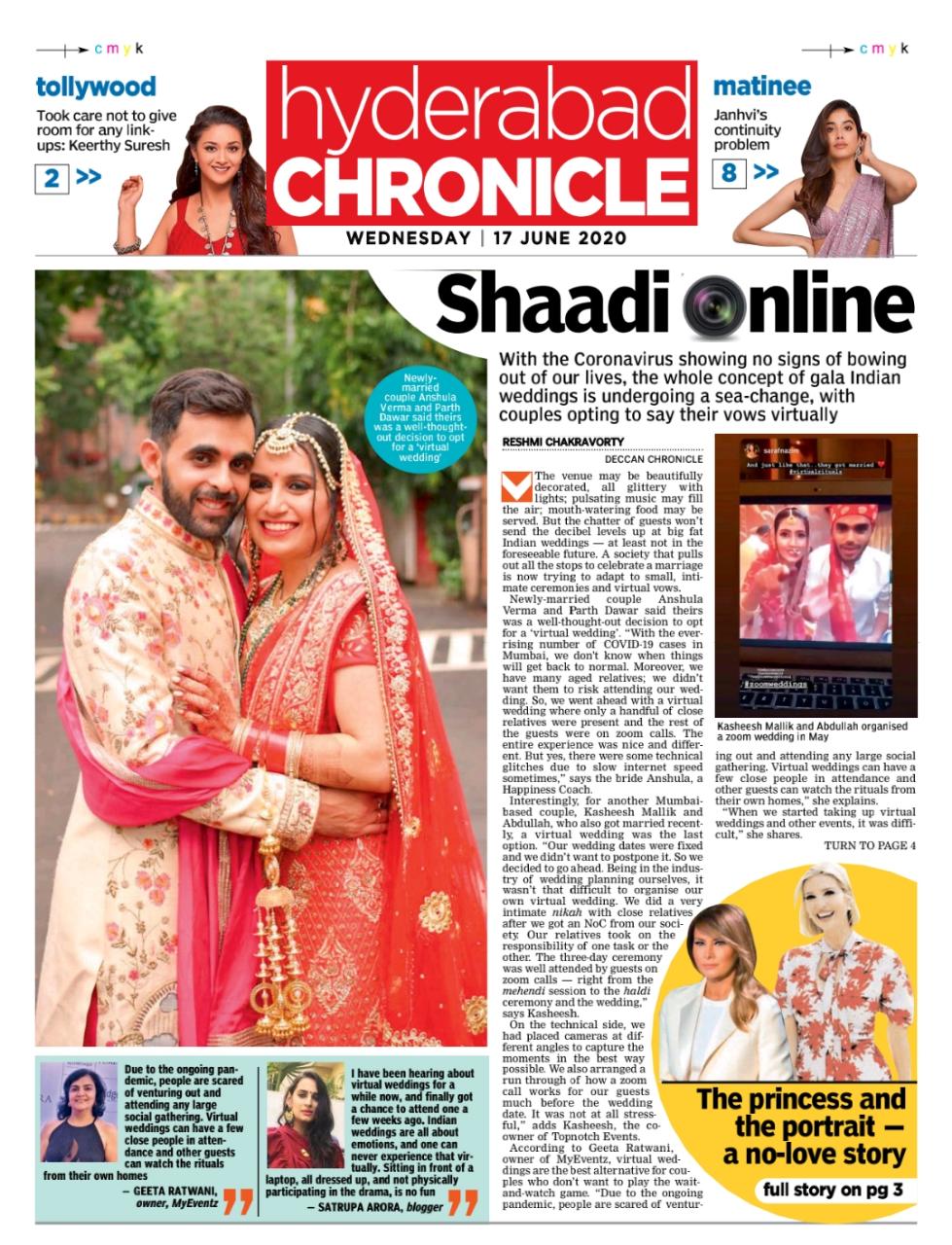 DECCAN CHRONICLE - VIRTUAL INTIMATE WEDDINGS
Hey, you're cordially invited to my wedding video!
- RESHMI CHAKRABORTHY Jun 17, 2020, 7:48 pm IST
The Venue was all decorated glittery with lights, pulsating music may fill the air, mouth-watering food may be served. But, the chatter of guests won't send the decibel level up at a Big Fat Indian Weddings – at least not in the foreseeable future. A society that pulls out all the stops to celebrate a marriage is not trying to adapt to small intimate ceremonies and virtual vows!
Newly-married couple Anshula Verma and Parth Dawar said theirs was a well-thought-out decision to opt for a 'virtual wedding'.
"Given the current situation in mumbai, we don't know when things will get back to normal. Moreover, we have many aged relatives; we didn't want them to risk attending our wedding. So, we went ahead with a virtual wedding where only a handful of close relatives were present and the rest of the guests were on Zoom calls. The entire experience was nice and different. But yes, there were some technical glitches due to slow internet speed sometimes," says the bride Anshula, a happiness coach.
According to Geeta Ratwani, owner of MyEventz, virtual weddings are the best alternative for couples who don't want to play the wait-and-watch game. "Due to the ongoing pandemic, people are scared of venturing out and attending any large social gathering. Virtual weddings can have a few close people in attendance and other guests can watch the rituals from their own homes," she explains.
"When we started taking up virtual weddings and other events, it was difficult," she shares.
"But now I have my team in place and everything is streamlined — we plan every single bit of the event, just as we did earlier. As of now we have organized about 20 virtual events, including weddings, birthdays and corporate dos. We are in talks with five-star hotels for food delivery to round-off the celebratory mood," she adds. But of course there's a flip side — the lack of intimacy.
Read more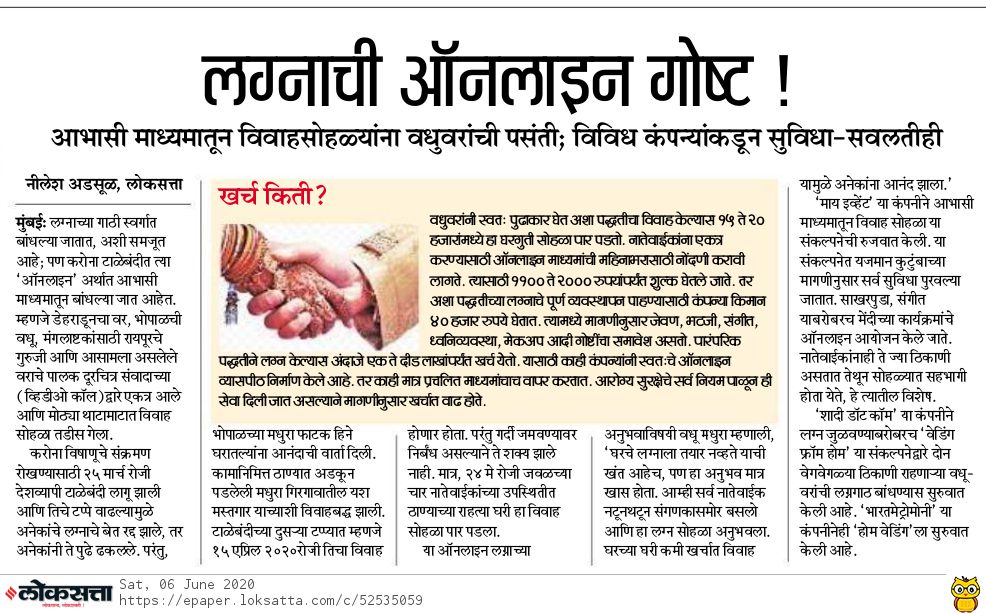 Loksatta